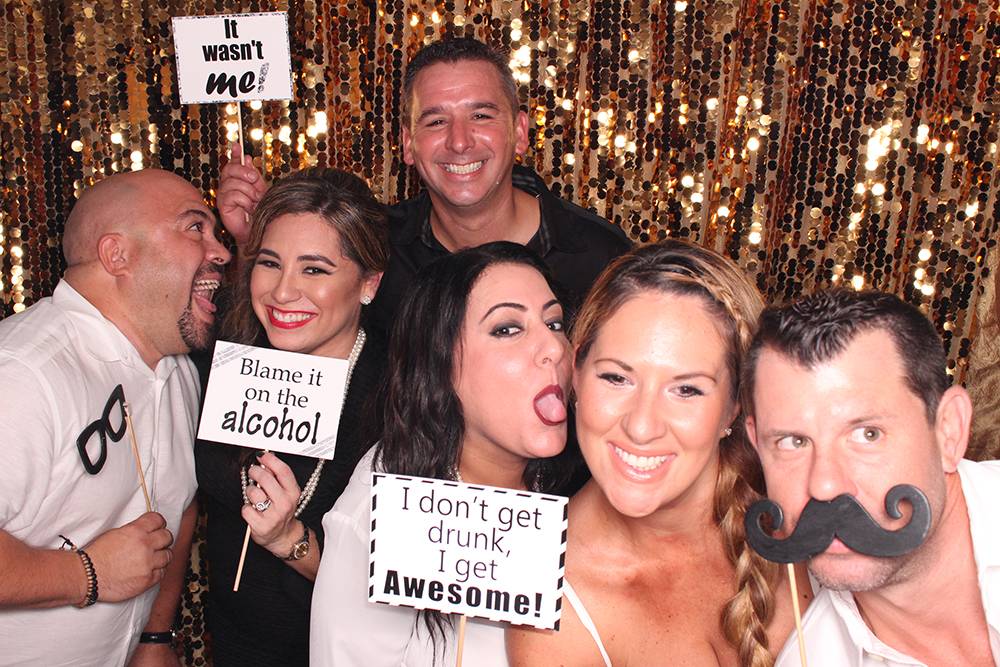 FAQs
Have questions? Give us a call, we're happy to assist in any way we can!
Below is a list of all the services we offer:
Photo Booth Rentals– Open concept booths with Professional DSLR, Flash & Printer. Choose between 2×6 strips or 4×6 prints.
Selfie Booth Rentals- Take your selfies with our Ipad & Circular Beauty Light then upload to social media or send to yourself via email.
GIF Booth Rentals- Our Booth will take a series of photos &  convert them into a GIF animation, ready for sharing on social media/email!
Hashtag Photo Booth Rentals- Integrates with Instagram & Twitter by printing photos that have been uploaded with your event's designated hashtag.
BYO Phone & Print Service- Think of this as your personal printer. You and your guests take pictures with your own phones then email them to us for instant printing.
Professional Photography & Print Service- We'll provide a true red carpet experience with professional photography then send them to our Printing Booth for instant 4×6 prints!
Roaming Event Professional Photographer- We offer professional event photography to capture your event and provide an online gallery with all images taken in high resolution.
Roaming Ipad Ambassador(s)- Ambassadors will roam your event with our portable Ipad / Beauty Light setup to capture guests & allow them to upload their branded photo to social media and/or email/text.
Slow-Motion Video Booth *Coming Soon- Looking for something fun & different?! This service will capture a short slow motion clip of guests and create a Social Media ready video for sharing/emailing.

Photo Booth Boutique was founded by professional wedding photographers, therefore style and quality were top priority!
Style: We understand that a lot of time, energy and money goes into decor  therefore our booth's first goal was to eliminate the big boxed enclosure. Standing at less than 2 feet wide, our open, white & smooth photo booths offer a product that would never be intrusive to your event.
Quality: As professional photographers, we made sure to find every possible way to provide you with the best lighting & quality prints. Our photo booths use top of the line commercial printers and quality lighting to make sure your prints come out bright & beautiful! And so, we look good at your event and you look good in your prints!

Tower Photo Booth: Our original Photo Booth is a free standing open booth that is both simple & the most elegant. It features a large 21″ touchscreen and is fully equipped with a professional DSLR camera, commercial grade printer and studio flash!
Mini Photo Booth: This is our ultra portable, yet just as sleek open photo booth. Also equipped with equipped with a professional DSLR camera, commercial grade printer and studio flash! It's distinct feature is the dual screens, a 12″ touchscreen while taking your photos.
Selfie/ GIF Booth: This booth brings you a full selfie experience with it's iPad based program and a beautiful circular ring light to ensure you look your absolute best! It is fully social, which means you can share to social media and/or email your selfie photos or GIF animations right on the spot!
Hashtag/ Print Booth: The Hashtag Print Booth brings you a one of kind experience for all hashtag enthusiasts! This booth will automatically collect and print photos that you have uploaded to Instagram or Twitter with the event's designated hashtag! Branding & exposure for your event at it's best! (*profiles must be set to public) Alternatively, it can be utilized as a portable printing booth with our professional event photography services or as a personal printer with the BYO phone service.

Each booth and service is different. Ideally a minimum of 6-8 feet sq. is recommended for our open photo booths. Just keep in mind, the more space there is the more people can enter the Photo Booth! The Hashtag Print Booth & Selfie / GIF Booth are less than 2 feet wide, can't be placed against a wall and don't require additional space. If you are concerned about the space just give us a call and we'll be happy to recommend the best options for your event.

Set up time varies on the background and booth option you choose. In general, we will arrive from 30 mins up to 1 hour to set up the booth, which is not part of your package hours.

Aside from the physical space for your specific package, the booth requires a standard outlet up to 10 feet from the location. Certain booths will require that your venue has a ramp/elevator for loading and unloading (no steps). Also, depending on your package, we may ask for a table to place the props and/or prints, ideally 6-8 ft.

Sessions are unlimited throughout any rental period. It refers to the amount of times a person or group comes into the photo booth. Like most photo booth companies, unlimited prints is an upgrade option to your rental in which every person in each session receives a print or strip.

In the unfortunate event that we have technical difficulties with our printer, your session will still go on and the photos will be uploaded to an online gallery. You will have a choice of receiving the missing prints or a hardcover book of all the images, which we will mail out to you. If something goes wrong with any other part of the booth and we're unable to service your guests, we will refund your payment for any unused time during your event (as per terms & conditions of our contract).

Yes, Photo Booth rentals are available on Holidays depending on schedule availability. Additional fees may apply.

Photo Booth boutique is available for free deliver and set-up within 25 miles of Downtown Miami. We are available for travel beyond 25 miles at $5 each additional mile with a 3 hr minimum rental. Distance limitations may apply.

If branding is on your priority list, we have several options to ensure that your guests not only have a great time but also that you're able to market your brand. -Consider a Step & Repeat with your logo/brand/event -Custom booth paneling with your brand and/or logo on our booth -Add your logo/ graphics to the booths' welcome screen -Collect guest's email addresses for future contact – Integrate your hashtag on Social Media Uploads

Didn't find the answers you needed? Shoot us an email!